SAVE SPACE, AND ORGANIZE YOUR REFRIGERATOR!

When we say organize, we mean it with every definition of the term. With this Refrigerator Storage Rack, you'll get to keep more items in your fridge. It allows you to maximize shelf space by adding more storage compartments. Perfect for space-saving.
It's made of food-grade, plastic equipped with side clips allowing you to hang the storage racks in the refrigerator's glass or drawer. Crafted with precision and non-slip materials to ensure a stable and secure hold. This gives you more space and chances to put more items in your refrigerator. You can put vegetables, fruits, and other condiments in these racks.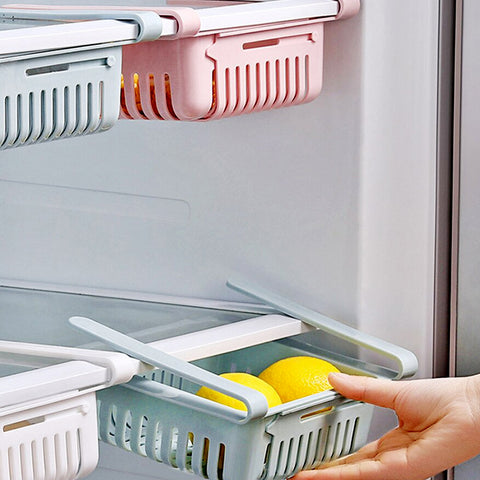 Modernly designed with high-quality PP plastic materials to ensure quality and durability. Guaranteed to keep your produce as fresh as possible. This caddy is super easy to install, use, and wash. It is multi-functional too. This innovative tool makes life more convenient.
FEATURES:
Space-saving: The storage box drain rack can be telescopic, convenient, and practical to save space. Just put the items above the drawer hanging glass in the box, you can easily store and save space.
Durable: It does not easily deform, nor fade. It is also made with holes at the bottom for proper ventilation and easy drying.
Heat Resistant: Its heat resistant to 204 ° C square strip design to provide a stable dry surface.
High quality: Made of high-quality PP plastic material, which is food-safe and non-toxic as well as hard-wearing, these adjustable shelf racks are versatile and long-lasting.
Multi-purpose: Can be used in dry things, but also can be placed in the refrigerator. Works great with other shelves, like your closet, office table, kitchen pantry, and more.
Easy to clean: Just rinse the faucet under the sink and wipe it off. Wash it like how you do your dishes, with soap and water. It is also dishwasher safe.
Easy to install: Each rack is easy to install and remove, by simply hooking the intelligent extended support clips over any glass fridge shelf for a firm hold, while the smart telescopic design lets you adjust each rack to different lengths with ease.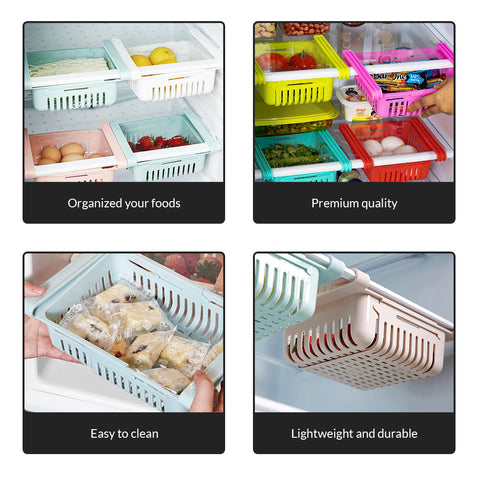 It's compact, does not take too much space. In fact, it gives you more storage space. The modish design and pastel colors also make it look nice, wherever you desire to hang it. It's not only useful in the kitchen but in the entire household.
SPECIFICATIONS:
Material: PP Plastic
Size: 28.5 x 16.4 x 7.6 cm
Weight: 140 g

PACKAGE INCLUDES:
1 x Adjustable Refrigerator Storage Rack.