🔥🔥Most customers bought 2 or more as Christmas gifts for their loved ones,this limited stock Handmade Horn Dragon Bracelet will be perfect!!🎁💝
For centuries, jewelry has been more than just adornment. It serves as an expression of culture, symbolizing personal and societal values. It tells stories and holds emotions. Amid the myriad choices of ornaments, a bracelet stands out as a distinctive piece. Its circularity represents unity and wholeness, a powerful symbol that extends beyond the aesthetic. And when it comes to bracelets, the Handmade Horn Dragon Bracelet is a sight to behold.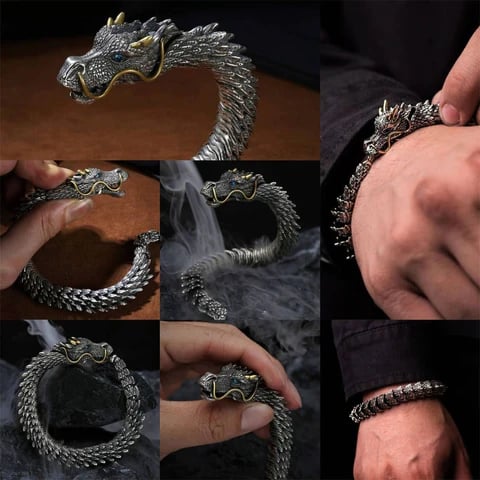 Handmade Horn Dragon Bracelet: A Symbol of Strength, Wisdom, and Power
Carved from the finest materials, the Handmade Horn Dragon Bracelet is a unique accessory, encapsulating the wearer's strength, wisdom, and power. It's not just a bracelet; it's a symbol that combines meticulous craftsmanship with a sense of history and mysticism.
The Unique and Distinctive Design
The handmade Golden Horn Dragon Bracelet's design mirrors the dragon's form, complete with precisely carved scales for a distinctive, captivating appearance. Each scale is a testament to the artisan's skill, speaking volumes about their attention to detail.
For Those Who Dare to Stand Out
In an age where mass-produced accessories are a dime a dozen, the Handmade Horn Dragon Bracelet is for those who dare to be different. It's a standout piece that elevates any look.
Perfect for Special Occasions
Whether you're dressing up for a special occasion or want to make a statement, this bracelet is your ticket to turning heads. It adds a touch of class and boldness that's sure to leave an impression.
Everyday Elegance with Dragon Bracelet
The Handmade Horn Dragon Bracelet isn't just for grand occasions. With its elegant design and significant weight (from 2.5-3.2oz), it can easily become part of your daily ensemble, adding a touch of elegance to any outfit.
Quality Beyond Compare
The Handmade Horn Dragon Bracelet's charm goes beyond its aesthetic appeal. It's also about the materials that comprise it and the craftsmanship behind it.
Sturdy Snake Clasp for Secure Fastening
A bracelet is only as good as its clasp. The Handmade Horn Dragon Bracelet comes with a sturdy snake clasp, ensuring it stays secure around your wrist. The snake clasp not only provides security but also adds to the bracelet's overall allure.
Making the Perfect Gift Choice
Looking for the perfect gift for someone who appreciates unique, handcrafted items? The Handmade Horn Dragon Bracelet fits the bill.
A Unique Gift Option
Gift giving is an art. A gift symbolizes your feelings towards the recipient, and a Handmade Horn Dragon Bracelet does just that. With its distinctive design and deep symbolism, it's the perfect gift for someone who appreciates unique pieces.
The Joy of Gifting Handmade Items
There's a unique joy in gifting handmade items. Each piece is unique, infused with the maker's heart and soul. When you gift a Handmade Horn Dragon Bracelet, you're not just giving a beautiful piece of jewelry, but a slice of the artisan's passion and dedication.