Defying the laws of gravity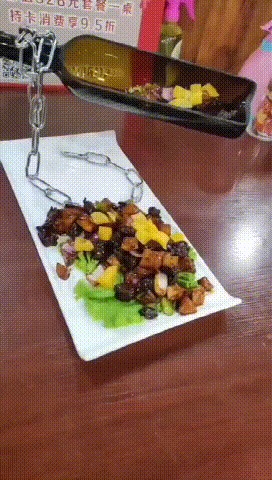 Introducing our exquisite and luxurious Floating Chain Wine Bottle Holder, a captivating piece that will enhance the elegance of any space. Crafted with precision and style, this unique wine holder creates the illusion of your cherished wine bottle floating effortlessly in the air.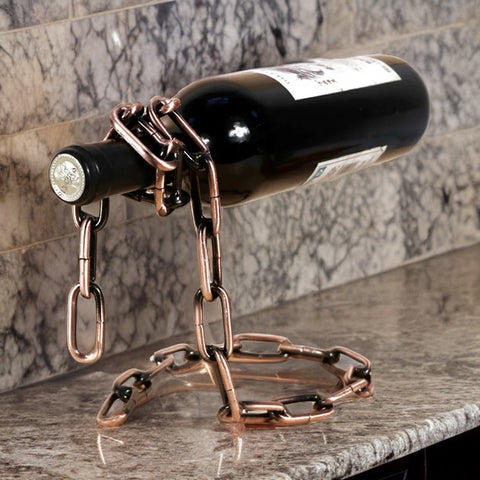 Designed to be a true conversation starter, our Floating Chain Wine Bottle Holder showcases a sophisticated and modern aesthetic. Expertly crafted chains intertwine flawlessly, providing both form and function. They securely suspend the wine bottle in mid-air, creating an eye-catching display that adds a touch of enchantment to your home or bar.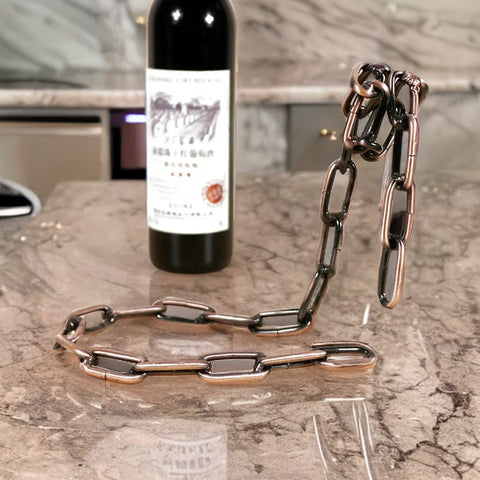 Made with high-quality materials, this wine bottle holder exudes a sense of opulence and durability. The chains have a stunning metallic finish, reflecting light and adding depth to its overall appearance. Its sturdy construction ensures the safety and stability of your favorite wine bottle, giving you peace of mind.

Not only is our Floating Chain Wine Bottle Holder a visual masterpiece, but it is also a practical solution. The suspended design prevents the wine bottle from coming into contact with surfaces, preserving its taste and keeping it in optimal condition. This unique presentation adds a touch of sophistication to your home decor, while also allowing easy access to your favorite vintage whenever you desire.
Ideal for wine enthusiasts, collectors, or anyone seeking to add a touch of luxury to their home or gifting experience, our Floating Chain Wine Bottle Holder will surely impress. It is suitable for any occasion or setting, whether it's a dinner party, special celebration, or simply a nightcap with loved ones.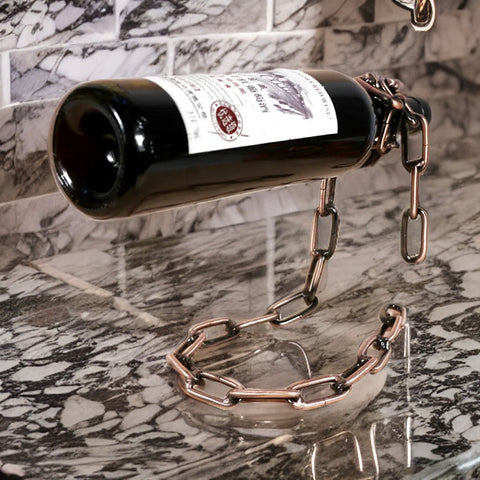 Indulge in the elegance and allure of our Floating Chain Wine Bottle Holder. Elevate your wine display experience and capture the admiration of your guests. Order yours today and experience the enchantment of this exquisite piece.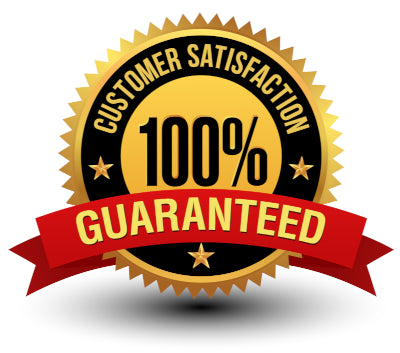 Try it Risk-Free for 14 Days
All Our purchases are backed by our Risk-Free 14 Day Money Back Guarantee.
if for any reason you are not satisfied with your product -Simple let us know and we give you your money back - no questions asked.